REGULAR COUNCIL MEETING WILL BE TUESDAY SEPTEMBER 19, 2023 AT
6:30 PM AT THE MUNICIPAL BUILDING LOCATED AT 107 N MAIN ST ROSEVILLE.
The Village of Roseville Sewer Department will be smoke testing Sewer Mains on
September 12, 2023 between the hours of 9 a.m. to 3 p.m. The rain date will be
September 13, 2023 at the same times.
The Village of Roseville is currently accepting applications for the open position of Utility Billing Clerk/Mayors Court Clerk. Applications will be accepted until October 6, 2023 or until position is filled.
Employment Applications can be picked up at the Municipal Building: 107 N Main St or printed EmploymentApplication.pdf. Applications can be emailed to fiscal-officer@rosevilleoh.com.
JobDescriptionUtilityBillingClerk.pdf
Are you a registered voter, have lived in the Village of Roseville for at least one (1) year and have NO felonies on your record? Would you like to be considered to fill a vacant council seat?
Roseville Council has an OPEN council seat effective Tuesday, August 22, 2023. If you are interested in filling the unexpired term of Lois Guy ending December 31, 2023, please send your letter of interest to Debbie Birkimer, Fiscal Officer for the Village of Roseville. It can be mailed to 107 N Main St or emailed to fiscal-officer@rosevilleoh.com by 4:00pm ...
The Ohio Auditor of State released the Village of Roseville's Regular Audit for the Fiscal Year 2021. The PDF file of the Regular Audit may be viewed here: https://audits2.ohioauditor.go...
Previous Village audits may also be viewed through the Ohio Auditor of State website by searching "Roseville" on the audit search tab.
The Audit Report can be emailed upon request from the Fiscal Officer/Clerk of Council. Email request to:
fiscal-officer@rosevilleoh.com
Mayor Bryan Stickel has called a Special Council Meeting for Tuesday August 22, 2023 @ 4:30PM at the Municipal Building 107 N Main St Roseville, Ohio 43777
The purpse of this meeting is to accept the resignation of a council member and vote to fill the vacancy.
This is notice that the Village Council will meet for a special council meeting on THURSDAY AUGUST 17, 2023 at 5:00pm. This meeting will be held at the Roseville Municipal Building, 107 N Main St. Roseville. Purpose of the special meeting:
- Executive session to conference with an attorney for the public body concerning disputes involving the public.
- Review and vote on the following legislation:
Ordinance 2023-23 Utility Billing Procedures
Resolution 2023-25 OPWC Application
Resolution 2023-26 Amend Annual Appropriations
Ordinance 2023-27 Advertise for bids to sell real estate
Ordinance 2023-28 Advertise for bids to sell real estate
Resolution 2023-29 ...
Please be advised that on Saturday August 12, 2023 South Main Street will be closed from the intersection of First Street to the intersection of Athens Road. Please plan accordingly.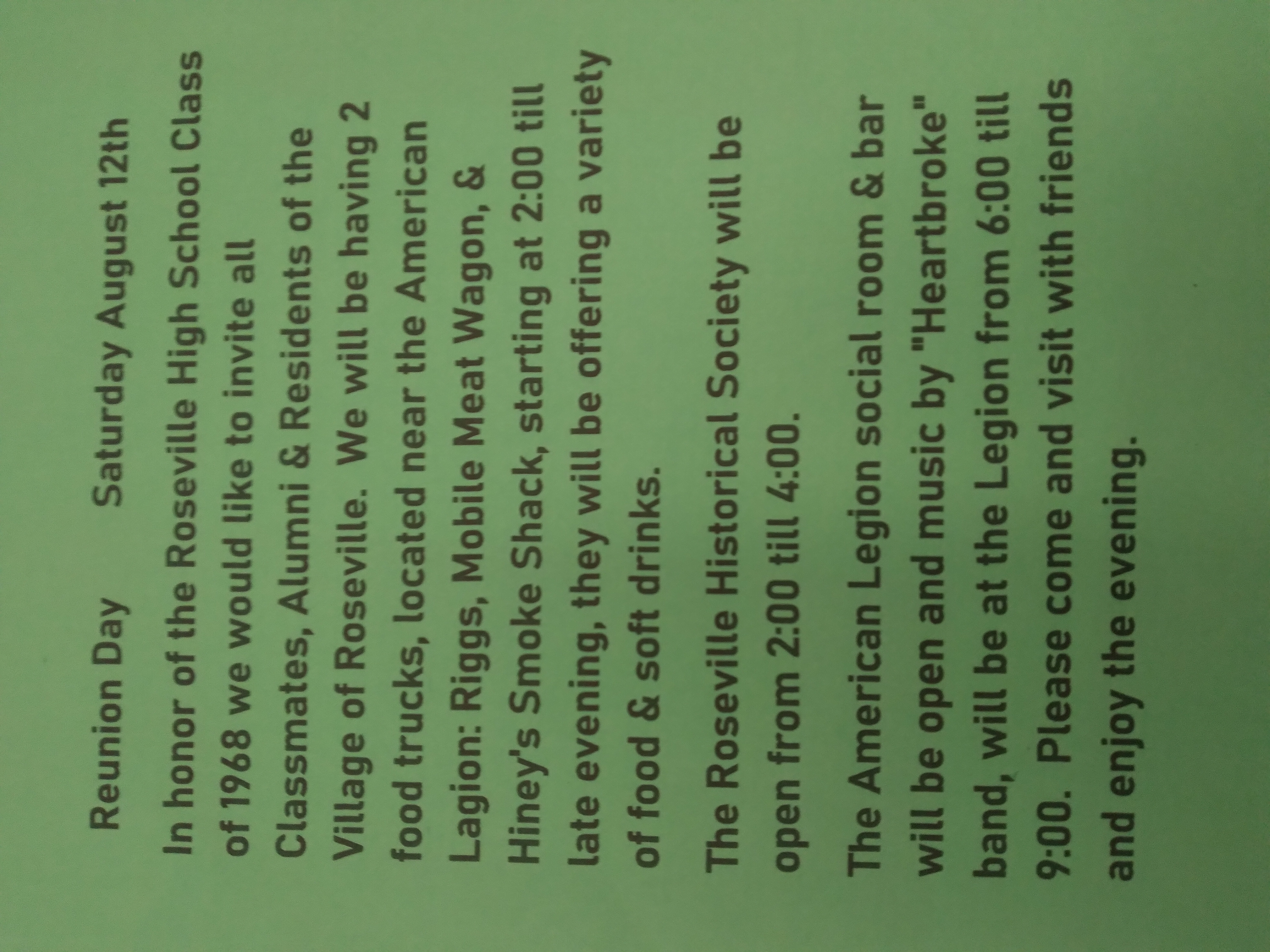 This is notice that the Cemetery Committee will be having a Cemetery meeting on Monday August 14, 2023 at 12:00PM. This meeting will be held at the William H. Barker Community Center, 13047 Karl Brown Rd. Roseville.
Please be advised that there will be representatives from Rural Community Assistance Partnership going to homes to complete a service line survey. We are asking residents to complete the survey about the water lines coming in to your home. The representatives will be here Tuesday August 8, 2023, and Thursday August 10, 2023. They will be driving a Blue Subaru Outback. If you have any questions, please call the office. Thank you for your cooperation.