Changes to Municipal Income Tax
On Friday, Governor DeWine signed HB 197, a bill that provides instruction and relief in many areas regarding the impacts of the coronavirus. This bill also authorized the State Tax Commissioner to change the due date for filing Ohio income tax returns. Since the individual municipal income tax due date was directly tied to this date, municipalities could not take official action until this was accomplished. Within hours of the Governor signing this bill, the State Tax Commissioner made an official declaration regarding due dates. This press release is in the link below.

https://www ...
PUBLIC SERVICE ANNOUNCEMENT on COVID-19
EFFECTIVE March 17, 2020
Release Date: March 16, 2020
TO: Employees, Residents, News Media, Roseville Utility Customers, Non-Profits, Churches, business owners, and all others interested in the Village of Roseville local government affairs.
FROM: Mayor Darrin Strate, Village Council, Administrator Jeffrey Slack, Fiscal Officer Heidi Milner, Police Chief Joey Carr, and Fire Chief Derrick Keylor
Roseville will always side on caution when it comes to the health and safety of our Village. This public announcement will go through what the Village itself will be doing in the upcoming weeks to comply with and enforce the ...
THIS IS THE MOST UP TO DATE INFORMATION. IF THE VILLAGE IS REQUIRED TO CHANGE, POSTPONE, OR CANCEL THE MEETING FOR MARCH 17, 2020 IT WILL BE UPDATED ON THIS SITE.
Mayor Darrin Strate is notifying the public that he is moving council meeting to the Village of Roseville's Community Center located at 13047 Karl Brown Road for March 17, 2020. The meeting will remain at 6:30pm. By holding the council meeting at the community center it will allow those in attendance to maintain social distance (approximately 6 feet away from another). Please be aware that this is ...
5% Inside Water rates increased by $1.48 per month or $2.96 bi-monthly on the minimum and $0.24 bi-monthly on 100 cubic feet. Yearly rate increase on the minimum- $17.76
5% Outside Water rates increased by $1.81 per month or $3.61 bi-monthly on the minimum and $0.32 bi-monthly on 100 cubic feet. Yearly rate increase on the minimum increase $21.66
In 2018 the Ohio EPA required all public water systems to create a water asset management plan by December 31, 2019. The cost for this new mandated regulations was $20,000 but the ...
Village of Roseville
107 N. Main St. Phone: 740-697-7323
Roseville, Oh 43777 Fax: 740-697-0064
Advertisement for Bids
The Village of Roseville will be accepting Sealed Bids by the Fiscal Officer of the Village of Roseville, Ohio until 2:00p.m., on March 4, 2020 to surplus the following vehicles and equipment "as is" with minimum bid requirements as identified below.
Street Department
1994 White International (1HTSDAAN8RH590480) - $500
1996 White International (1HTSDAAN8TH269904) – $500
2004 Chevy Pickup Truck (1GCHK24U74E304828) - $800
Water/Sewer
2004 Ford Crown Victoria (2FAHP71W44X132685) – $300
Police Department
2010 Ford Crown Victoria (2FABP7BV1AX141898) – $300
2009 Dodge Charger (2B3KA43T29H642314) – $500
Bicycles ...
The Roseville Police Department and Village Staff are doing an Angel Tree this year to help Roseville residents who are struggling to get Christmas gifts this year for their children/grandchildren. Residents include those who live inside the corporation limits of Roseville. Unfortunately, we don't have the resources or volunteers to go beyond the town. Applicants do have to meet income guidelines below.
2019 POVERTY GUIDELINES FOR THE 48 CONTIGUOUS STATES AND THE DISTRICT OF COLUMBIA
SIZE OF FAMILY UNIT POVERTY GUIDELINES
1 -$ 12,490
2- $ 16,910
3- $ 21,330
4- $ 25,750
5- ...
The Village is starting to collect information to provide additional services to the residents. You will now be able to get your water bill emailed to you. Customers will also have the ability to authorize payment via Electronic Fund Transfer. Estimated Start Date January 2020.
The form is attached in order to participate in either or both new services.
WATER.SEWERBILLSUPDATECUSTOMERINFORMATION.pdf

Let's get The Kiln fired up!
Today the Village of Roseville received the news from USDA Rural Business Development that we were the recipients of a $492,184 grant to build a grocery store and eatery on Potter's Lane. This is another giant step toward the new and improved Roseville. This grant will be added to the already 5.5 million dollars in grants and private investments taking part in the Roseville Downtown Revitalization projects that started in 2017. The grocery store and restaurant will be called "The Kiln Market & Eatery" and be owned by Bob and Debbie Birkimer; the property will be owned by The ...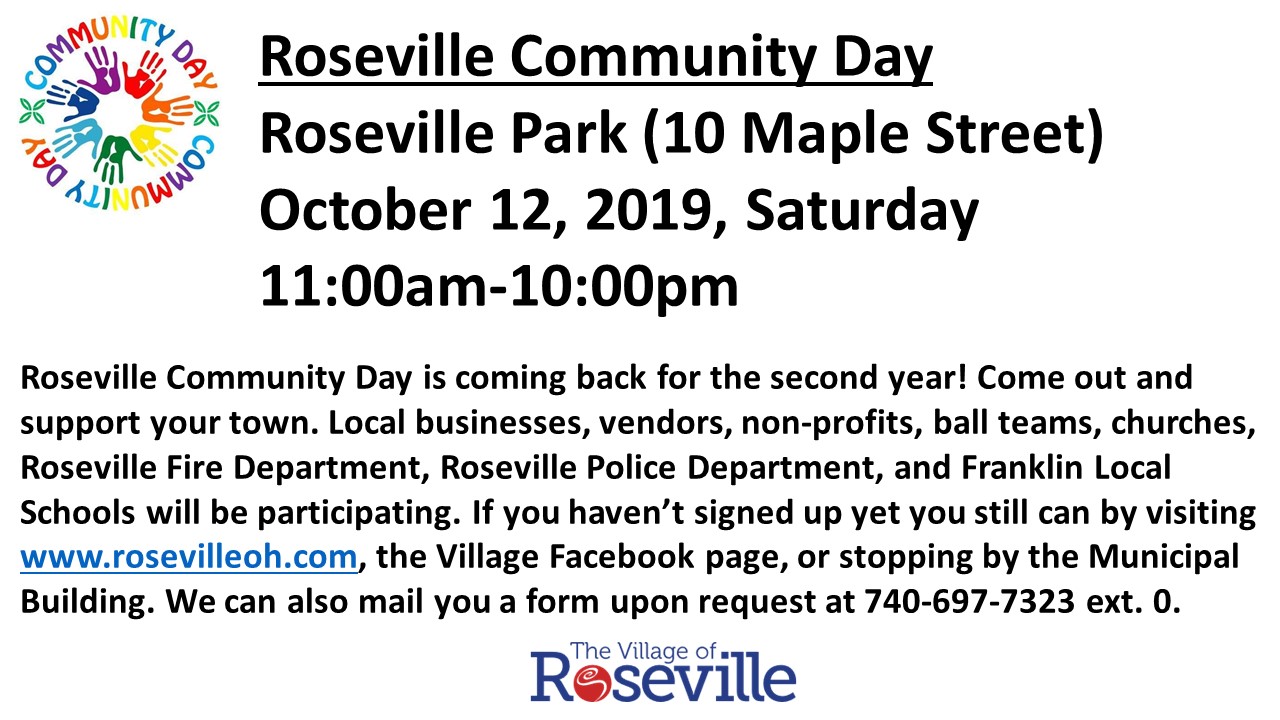 Camping with a Cop
Roseville Community Center
Roseville Police Department is hosting a free camping event for the first 20 registered kids. Ages must be between 7-13 years old. There will be a boys night and a girls night. Kids must provide their own tents and sleeping bags/pillows. Both events will begin sharply at 6pm and end the following morning at 9am. All children must be picked up by 9am.
Parents/Guardians/Grandparents are welcome to stay overnight with their child if they choose but they must be of the same gender. For example, the boys night ...