The Roseville Police Department and Village Staff are doing an Angel Tree this year to help Roseville residents who are struggling to get Christmas gifts this year for their children/grandchildren. Residents include those who live inside the corporation limits of Roseville. Unfortunately, we don't have the resources or volunteers to go beyond the town. Applicants do have to meet income guidelines below.
2019 POVERTY GUIDELINES FOR THE 48 CONTIGUOUS STATES AND THE DISTRICT OF COLUMBIA
SIZE OF FAMILY UNIT POVERTY GUIDELINES
1 -$ 12,490
2- $ 16,910
3- $ 21,330
4- $ 25,750
5- ...
The Village is starting to collect information to provide additional services to the residents. You will now be able to get your water bill emailed to you. Customers will also have the ability to authorize payment via Electronic Fund Transfer. Estimated Start Date January 2020.
The form is attached in order to participate in either or both new services.
WATER.SEWERBILLSUPDATECUSTOMERINFORMATION.pdf

Let's get The Kiln fired up!
Today the Village of Roseville received the news from USDA Rural Business Development that we were the recipients of a $492,184 grant to build a grocery store and eatery on Potter's Lane. This is another giant step toward the new and improved Roseville. This grant will be added to the already 5.5 million dollars in grants and private investments taking part in the Roseville Downtown Revitalization projects that started in 2017. The grocery store and restaurant will be called "The Kiln Market & Eatery" and be owned by Bob and Debbie Birkimer; the property will be owned by The ...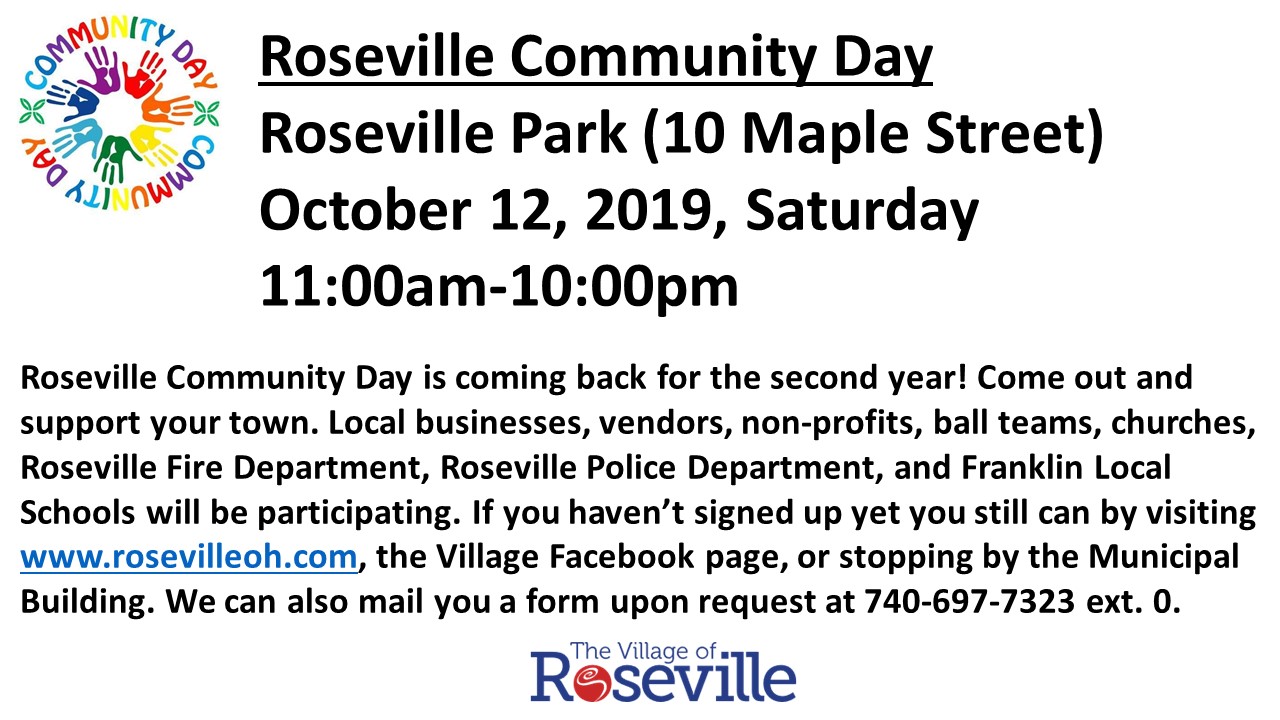 Camping with a Cop
Roseville Community Center
Roseville Police Department is hosting a free camping event for the first 20 registered kids. Ages must be between 7-13 years old. There will be a boys night and a girls night. Kids must provide their own tents and sleeping bags/pillows. Both events will begin sharply at 6pm and end the following morning at 9am. All children must be picked up by 9am.
Parents/Guardians/Grandparents are welcome to stay overnight with their child if they choose but they must be of the same gender. For example, the boys night ...
2018 Roseville Drinking Water Consumer Confidence Report
The Village of Roseville is accepting applications for patrolman. Individuals must have OPOTA Certification, at least 21 years of age, high school diploma or equivalent, and be able to pass a physical, stress test, drug and alcohol test. You can pick up application at the police station at 107 N Main Street, Roseville Ohio 43777. For more information call 740-697-7315. The Village is an equal opportunity employer. The Village have has the right to reject any and all applications.
Updates continuing
5:30pm 5.29.2019: Residents who need Electric Inspected: Mid-East is offering help on inspecting residential services. Call Mid-East Building Department, Jason R. Baughman, PE, at 740-455-7905.
They are also helping with inspections for commercial properties.

5:00pm 5.29.2019 Dumpster has arrived behind the Fire Station for debris.
3:00pm 05.29.2019 Help Information: Currently the Village and the Counties EMA Director's are working with the State of Ohio to seek help financially for the tornado damage. In the mean time any trees or brush can be placed behind the Fire Station in ...
Update: The Boil Advisory for Ceramic Road is lifted. 4.24.2019 at 9:02am.
Update: Boil Advisory for Ceramic Road ONLY at this time. If you have discolored water we would recommend that you don't drink the water or do laundry while it is discolored.

ALERT: A water main on Ceramic Road. You will be experiencing either no water or brown water. At this time until we can get more information please spread the word to not use the water or don't drink the water. There may be a boil advisory issued but we are still gathering information ...
Note from Muskingum County Health Department. Please feel free to direct your Facebook followers to our website at www.zmchd.org. Click on the Families tab at the top of the page and scroll down to Lead Poisoning Prevention.